Podcast: Play in new window | Download
Stimulate Your Mind - Subscribe Now Apple Podcasts | Android | Google Play | RSS | All Subscription Options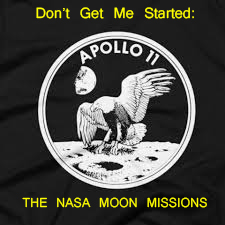 Don't Get Me Started Part 1 of a 3 or 4 part series:
In this episode I will be covering the NASA Moon Mission, in particular the Apollo Missions.  I personally have been fed up with all of the nonsense that just keeps repeating itself within the Main Stream today.  So I decided to say something about it.  Anyone who has done enough research into subject like this one, will come to the same conclusions as I have.  People today just do not give themselves the time to look at issues such as this from new angles and really get to the heart of the matter.  They are too busy with what life throws at them to care about issues that matter, and ultimately will alter the course of truth.
"Those who control the past, control the future."
Please Check out the videos below, and I will update this page later this week with other Web Links that will give you the necessary stuff to start your own investigation if you so choose.  The Moon Mission, 9/11, the Main Stream Media, The Government Controlled Wars, and The Manipulation of the Educations system are subjects that I feel need to be addressed everyday, as we are losing the battle for truth in America and around the world.   We as people are responsible for what happens.
Sapiens (or what others like to call Human) are destroying each other every day.  We lie, cheat, steal, manipulate, and kill our own kind with a blink of an eye – and this is you OWN RACE.  Think about what Sapiens would do to someone or something that is not their own kind???
What the Science program has done to us is exactly what the other entities (MSM, GOV'T, EDUCATION) have followed along with as well.  Manipulate the mind of the people and they will fall in line to what every THEY say.  You have heard of 'sheeple'?  Sheep-People – those that just follow the herd?  Then ask yourself why don't you stand up and make the difference?  Why don't you exploit BIG BROTHERS Bull-shit?
You and you alone can make the difference…but you have to educate yourself with the truth, and "Remove Truth's protective layers" as Neil Armstrong said at the 25th anniversary of Apollo 11.
There are many out there that know how corrupt the system has become, but It is up to us to make this change and become more read, more informed people.  The time for ignorance is no more.  Excuses are no longer acceptable.
Namaste My Friends  – Please Check out the Videos Below.